THE COWBOYS WON!
BUT YOU CAN STILL GET WHEEL
Oklahoma State University won the 2020 Cheez-It Bowl, but the Cheez-It Wheel Live Fan builder lives on!
Whether you're a Canes or Pokes fan, cheering on another team entirely, or just always wanted to see what you'd look like as a wheel of cheese, now is your chance to cheez-ify yourself and share it with your internet friends.
Build Your Wheel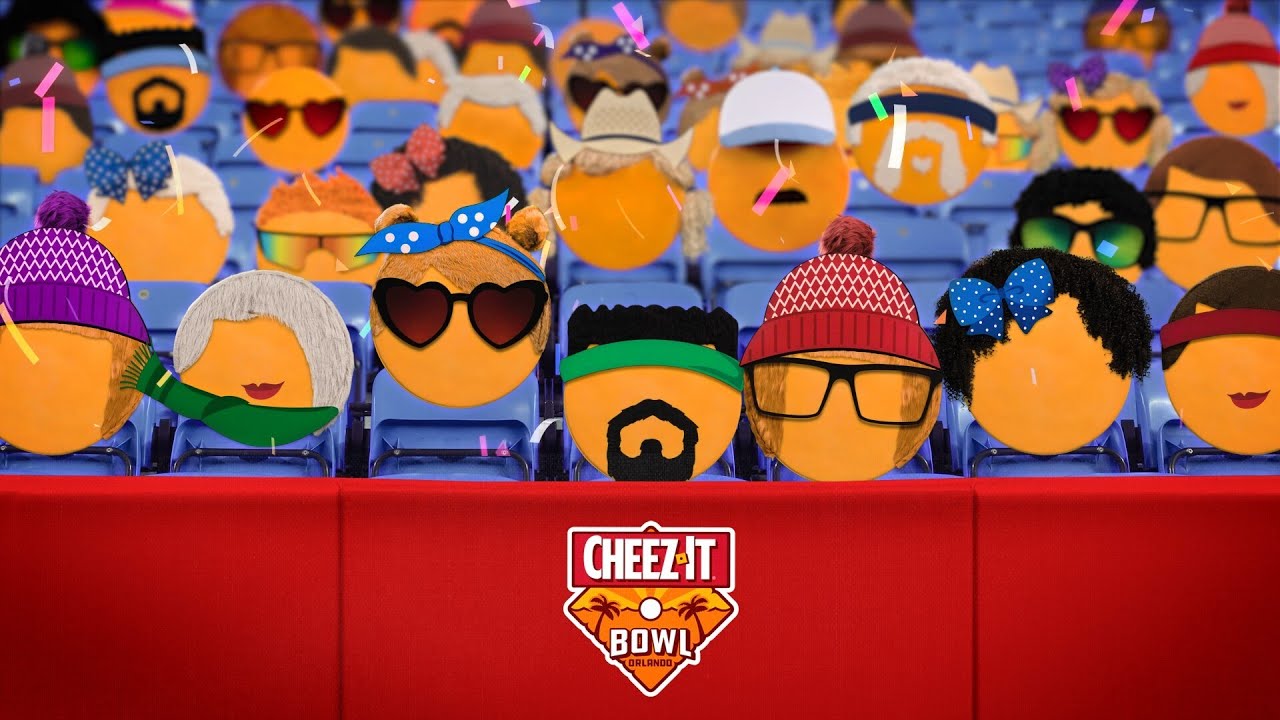 Congrat-Cheez-lations
2020 Cheez-it Bowl Champs
OK STATE
Cowboys
How It Works
Step 2
Share It With Your Friends
Design your own Cheez-It Wheel Live Fan. Yeah, it's wheel-y exciting.
The 2020 Cheez-It Bowl is scheduled to kick off December 29 at 5:30 p.m. EST on ESPN.
Cheez-It Wheel Live Fans are humanized cheese wheel versions of the at-home fans who could not be in the stadium for this year's game. Using fan-inspired designs, Cheez-It will install hundreds of these animatronic and fixed cheese wheels in the end zones of Camping World Stadium and they will be rigged to move, cheer, spin and celebrate like real fans during the game.
On game day, fans can jump into the cheesy fun on Twitter, where the Cheez-It Wheel Live Fans' movements and celebrations will be controlled via fan suggestions. All fans need to do is share what they want the wheels to do using designated team hashtags. The hashtags will be announced on social media shortly after the Cheez-It Bowl teams have been selected.
To share your Cheez-It Wheel Live Fan on apps like Instagram or Snapchat, save the image and upload manually to share with the hashtag #CheezItBowl.
If the share button is not working, simply save the image and upload manually to share with the hashtag #CheezItBowl.
This is not an official contest or sweepstakes, and in-stadium avatars will not be selected by any ranking or scale, nor will the designs selected receive any prize or compensation. Fans are encouraged to create their Cheez-It Wheel Live Fan avatar and share on social, with a chance to see their personalized wheel in the endzone on game day.
The Cheez-It Wheel Live Fans will be repping in the endzones so there is no limit to how many Wheel Live Fan avatars will be displayed on-screen during the game. Keep your eyes peeled to see if yours takes center stage!